About Us
About Us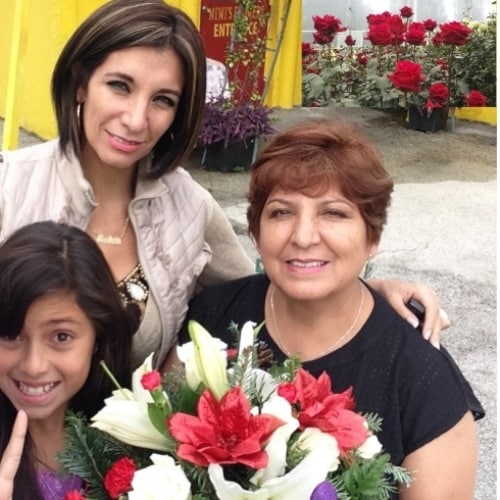 Mimi's Flowers & Gifts proudly serves a large portion of the Central Florida Area. We are a real flower shop located in Fern Park and have been a part of the local community for over 30 years. 16 of those years have been as a full service florist. Our store is not a show room, a warehouse, or a bank of phones for processing orders. We take in fresh flowers and glassware everday and produce floral arrangements for every occasion. Many retailers advertise themselves as "local" but it's nothing more than geographical misrepresentation. Our shop is real, come down any time to see for yourself. It's not fancy or floofy, just a small store that happens to make wonderful flower arrangements.

Let Mimi's Flowers & Gifts be your first choice for flowers.
Mimi's Flowers & Gifts
8280 S US Hwy. 17/92
Fern Park, FL 32730
---
Store Hours:*
*Our shop is open from 8:00 a.m. to 5:00 p.m., Monday through Friday and from 8:00 a.m. to 2 p.m. on Saturday and Sunday.

To help assure on-time delivery during the busy holiday season, place your order at least 1 day prior to the following major holidays: Thanksgiving Day, Christmas Day, New Year's Day, Valentine's Day, Easter, Administrative Professionals Week, Mother's Day, Memorial Day, Father's Day, Independence Day and Labor Day.

Our shop will always be closed on the following holidays: Thanksgiving Day, Christmas Day, New Year's Day.
Payment Options
We accept the following payment methods:

Visa

MasterCard

Discover/NOVUS

American Express

Will Call In

Areas Served
Our shop serves the following areas in Central Florida: Altamonte Springs, Casselberry, Fern Park, Longwood, Maitland, Orlando, Oviedo, Winter Park and Winter Springs.
Additional areas may be served with an additional delivery fee and based upon availability.
We also deliver to the following facilities
A Community Funeral Home
Adventist Care Ctr
Aiden Springs
All Faiths Funeral Altrntvs
Almark Health Services Inc
Alvarez-Vespoli-Wilcox Funeral
American Family Funeral Ctr
Antioch Manor
Apopka Retirement Home
Arden Courts of Winter Springs
Arnold Palmer Hospital
Atria Tuscawilla
Atria Wekiwa Springs
Azalea Manor
Azure Winter Park
Baldwin Brothers & Funeral &
Baldwin Brothers Funeral Home
Baldwin Fairchild Cemeteries
Baldwin Fairchild Funeral Home
Baldwin-Fairchild Cemeteries
Baldwin-Fairchild Oaklawn Chap
Banfield Funeral Home & Cremat
Batts Funeral Home
Beacon's National Cremation
Bear Lake Retirement Home
Beautiful Hummingbird Lane
Beth Shalom Memorial Chapel
Beverly Health & Rehab Ctr
Boni Johnson Inc
Brewer & Sons Funeral Hms
Bridge Assisted Living
Brighton Gardens
Brinson's Funeral Home
Brisson Funeral Home
Brookdale Assisted Living
Brookdale Lake Mary
Burial's By Sea
Calvary Towers
Cambo Medical Group
Cancer Care Ctr Winter Park
Carey Hand Garden Chapel
Carey-Hand Cox Parker Funeral
Carousel Retirement House
Casket & Urn Superstore
Central Florida Regional Hosp
Central Florida Wound Care Ctr
Cfca-Christian Scientists
Chambrel At Island Lake
Circle Of Friends Home Fl
Clare Bridge
Collison Family Funeral Home &
Collison Family Funeral/Cemtry
Colonial Chapel/Carey Hand
Commons At Orlando Lutheran
D & D Promotional Products Inc
Daryl Q Schofield Funeral Home
DeGusipe Funeral Home & Cremat
Depugh Nursing Ctr
Dixie Manor
Dobbs Cremation & Funeral Serv
Dove Funeral Chapel-Creamatory
Dove Funeral Home Inc
Eastbrooke Gardens
Family Funeral Care
Family Health Center East
Family of Friends, Inc.
Florida Hospital
Florida Hospital Altamonte
Florida Hospital Apopka
Florida Hospital Cancer Inst
Florida Hospital Center-Bhvrl
Florida Hospital Centra Care
Florida Hospital College-Hlth
Florida Hospital Continence
Florida Hospital East Hrng Ctr
Florida Hospital East Orlando
Florida Hospital Hearing
Florida Hospital Orlando
Florida Hospital Rehabilitaton
Florida Hospital Senior Health
Florida Hospital Senior Partal
Florida Hospital Sport & Rehab
Florida Hospital Transitional
Florida Hospital Women's Ctr
Florida Living Nursing Ctr Inc
Florida Living Retirement
Florida State
Florida Womens Ctr - Altamonte
Freeney Care Home
Gail & Wynn's Mortuary
Garden Retirement Community
Garden Spring Manor
Golden Living
Goldens Funeral Home Inc
Grace Villa
Gramkow Funeral Home & Cremato
Grand Villa of Altamonte Sprin
Green Tree Assisted Living
Greenbriar Retirement
Guardian Care Convalescent Ctr
Guardian Care Nursing & Rehab
Guardian Home
Harmony Retirement Living Inc
Healthcare & Rehab Of Sanford
Heritage At Lake Forest
Hernandez Heights
Hidden Valley
Hillcrest Hampton House
Horizon Bay Altamonte Springs
Horizon Bay Lake Orienta
Howell Branch Court
Integrated Health Svc
Island Lake Ctr
Islands Alf Inc
Judi Cares Inc
Julie's Retirement Resort
Lake Jessup Retirement Home
Lake Margaret Group Home
Lakeside Behavioral Healthcare
Lakeview Manor
Lakewood Center
Life Care Ctr
Life Care Ctr Of American
Life Care Ctr Of Orlando
Longwood Health Care Ctr
Loomis Family Funeral Home Inc
Lotus Lake Retirement Home
Lucerne Medical Ctr
Lutheran Haven Nursing Home
Lutheran Haven Retirement Ctr
M D Anderson Cancer Center -
Magnolia Towers
Maitland Health Care Ctr
Maitland Oaks
Manor Care Health Svc
Mariner Health At Conway Lakes
Mariner Health At Hunter's Crk
Mariner Health Care Inc
Marvin C Zanders Funeral Home
Mary Lee De Pugh Nursing Home
Mayflower Retirement Community
Medicine Specialists-Fl Hospit
Mitchells Orlando Funeral Home
Mnh Surgical Ctr Inc
Mott Foster Home
National Cremation & Burial So
Newcomer Funeral Home
Newcomer Funeral Home, South
Ntm Homes
Nursing Home Abuse Helpline
Orlando Cloisters
Orlando Health
Orlando Health Care Ctr
Orlando Living Ctr
Orlando Lutheran Towers
Orlando Memorial Gardens
Orlando Regional Healthcare
Orlando Regional Rehab
Orlando Surgery Ctr
Ormc Outpatient Chemotherapy
Palm Garden Of Orlando
Palomino Lifestyles
Park Plaza Apartments
Pavillion At Crossing Pointe
Petite France Holistic Alf
Pine Acres Golden Age Centre
Pine Castle Memorial Funeral
Plymouth Apartments
Postell's Mortuary Orlando Fun
Presbyterian Retirement Comm
Red Bug Lake Manor
Regents Park Health Care Ctr
Renaissance Retirement Center
Residential Care Resource
Retirement Plan Specialists
Rita & Charles De Nave Alf
Roger Babson Retirement Home
Rose Garden Manor
Rosewood Elder Care
Sand Lake Hospital
Sanford Manor
Schumaker Group
Sentinel Fiduciary Svc Inc
Serenity Towers
Shady Lane Manor
Shareaconcept
Silver Star Village
Slovak Garden Inc.
South Seminole Hospital Rehab
South Seminole Wound Healing
South Seminole/Orlando Reg'l
Spring Hills Lake Mary
St Mary's Homes
Summer Time Retirement Home
Summerville
Sunbelt Living Ctr
Sunrise Funeral Home
Sunrise Retirement Home
Sutton Homes Alzheimer's Care
Sylvia's Home Away From Home
Tandem Health Care
Tandem Rehabilitation
Terra Vista Rehabilitation
The Cornerstone at Longwood
Touchton's Adult Day Care
Union Park Memorial Chapel
Unity Memorial Funeral Home
University Behavioral Center
Village Oaks At Conway
Village Oaks At Tuskawilla
Village On The Green
Vincon Diagnostic Ctr
Westminster Care Of Orlando
Westminster Communities of FL
Westminster Community Care Svc
Westminster Plaza East
Westminster Towers
William Booth Towers
Wilson-Eichelberger Mortuary
Winnie Palmer Hospital for
Winter Park Ambulatory Surgery
Winter Park Memorial Hospital
Winter Park Towers
Winter Park Village Apartments
Women's Health Pavilion
Specialty Services
We specialize in the following services:
Large inventory of fresh flowers
Tropicals
Plants
Dish gardens and live plants
Contemporary and traditional arrangements
Silk arrangements
Dried floral arrangements
Weddings
Funeral pieces
Fruit baskets
Gift baskets
Contact Information
To learn more about Mimi and her shop, please visit www.MimisFlowers.net, her personal page. If you have any questions or need more information, please call us directly at (407) 775-6653. We are here to help!

Mimi's Flowers & Gifts
8280 S US Hwy 17/92
Fern Park, FL 32730
Tel (407) 775-6653
Fax 407-767-0036
Email: MimisFlowersAndGifts@gmail.com


Mimi's Flowers & Gifts
8280 S US Hwy. 17/92
Fern Park, FL 32730
Delivery Policy
A local delivery fee of $9.95 will be added to each order, for each address. (For deliveries outside our local delivery area, this fee may vary.)

Orders should be placed as soon as possible. If you have a special request for delivery or a last minute delivery, please call our shop. Chances are, we can accomodate you.

We will do our best to accommodate deliveries at specific times of day, but we cannot guarantee it.


Delivery of orders to rural route addresses or cemeteries cannot be guaranteed.
Please provide as much information as possible to assist in the delivery of your gift.



Our Delivery Procedure:
1.) We will attempt delivery with the information provided. If labeled a business, we will assume delivery should occur bfore 5pm unless otherwise noted. Residential deliveries could occur after 5pm.
2.) Unless specified, we may contact the recipient prior to delivery to ensure they are availableto recieve their gift. If this gift is a surprise, please inform us and provide alternate contact information in the event the delivery driver requires assistance.
3.) Florida is sometimes hot, very very hot. We will do what we can to avoid leaving flowers at the front door, even when given permission to do so. Drivers will attempt neighbors, front desk leasing offices etc to keep flowers cool and fresh. If you would like your flowers left at the front door, we are not able to guarantee freshness of your gift. If there is no one home when we attempt delivery, we will call the number provided and leave a message. We will also place a tag on the door and reschedule a delivery when we are contacted by the recipient.
4.) You will be notified upon completion of your delivery.
Substitution Policy
Occasionally, substitutions may be necessary to create your bouquet due to the availability of certain flowers in various parts of the country. Care is taken to maintain the style, theme and color scheme of the arrangement, using flowers of equal value. Additionally, the substitution of certain keepsake items may be necessary due to increased demand, especially during major holidays. In single-flower arrangements, such as an all rose bouquet, or orchids, we will make every attempt to match the flower type, but may substitute with another color.
We try out best to produce a gift as close to the one you have selected. In many cases, we do have all of the materials, fresh and otherwise, to make it nearly identical. However, with the number of containers and flowers that are offered by Teleflora, FTD and 1800Flowers, it would be impossible to have all materials on hand to create every single one of them at a moments notice. If you have a desire for an exact item, please call our store and we can tell you what we have in stock and how closely we can replicate the item you viewed online. These are all hand made and as such, reflect each floral designers personal style as well.
Privacy Policy
This privacy statement has been created in order to demonstrate our firm commitment to protecting customer privacy.

Information We Collect

If you open an account on our site or make a purchase, we need your contact information including your name, e-mail address and mailing address to complete your transaction.

When you visit our website, we also collect some basic information that does not identify individual users. We use this information to determine our users demographics and interests, so that we can better understand and serve our users.

"Cookies"

Cookies are small files which store certain information about your activity on the website and are stored on your computers hard drive. Our cookies do not contain any personally identifying information. We use cookies to let us know that you are a prior customer, so that you dont have to reenter information you gave us on your prior visits. Most web browsers automatically accept cookies, but most allow you to instruct your browser to prevent the use of cookies. However, if you disable cookies, you will not be able to use certain features of this website.

Our Use and Disclosure of Your Information

When opening an account or making a purchase, you have an opportunity to opt-in or opt-out from receiving emails from us. If you opt-in to receive information from us, we may use your purchase history, contact information and other registration information to provide you with more relevant information and email content. We may send emails to our users regarding changes in our services or other information we believe will be of interest to our users. If you prefer not to receive these emails, you can send us an email with the subject line no emails or reply to our email with the subject line no emails.

If you send us personal correspondence, such as emails or letters, or if other users or third parties send us correspondence about your activities on our site, we may collect such information. We may use that information and other information that we obtain from your use of our site to resolve disputes, troubleshoot problems and enforce our agreement for Terms of Use.

We may share aggregate statistics about our sales, traffic patterns and related site information with other businesses, but these statistics will include no personally identifying information.

We may share your information with Teleflora and other reputable vendors for the purpose of sending out special offers via email and/ or in connection with the services provided by our site such as the delivery of flowers. Your information will not be shared for any other purpose and will be kept secured.

We cannot ensure that all of your private communications and other personally identifiable information will never be disclosed in ways not otherwise described in this Privacy Statement. For example, we may be required to disclose information to the government or third parties under certain circumstances, or third parties may unlawfully intercept or access transmissions or private communications. We can (and you authorize us to) disclose any information about you to law enforcement or other government officials as we, in our sole discretion, believe necessary or appropriate in connection with an investigation of fraud, intellectual property infringements, or other activity that may be illegal or may expose us to legal liability.

Security

This site has security measures in place to protect the loss, misuse and alteration of the information under our control.

All user credit card information is securely communicated using secure socket layer (SSL) software, which is the industry standard and among the best software available for secure commerce transactions.

All user information stored on our server is stored in an encrypted format. Notwithstanding these efforts, we caution you that perfect security does not exist on the Internet.

Linked Sites

If this site contains any links to other websites, we are not responsible for the privacy practices or the content of such websites.

Changes to Privacy Statement; Consent

We may update this Privacy Statement from time to time. You should check this page periodically for changes. By using our site, you consent to the collection and use of your information by us as described in this Privacy Statement.

Questions and Comments

We welcome your questions and comments about this Privacy Statement.